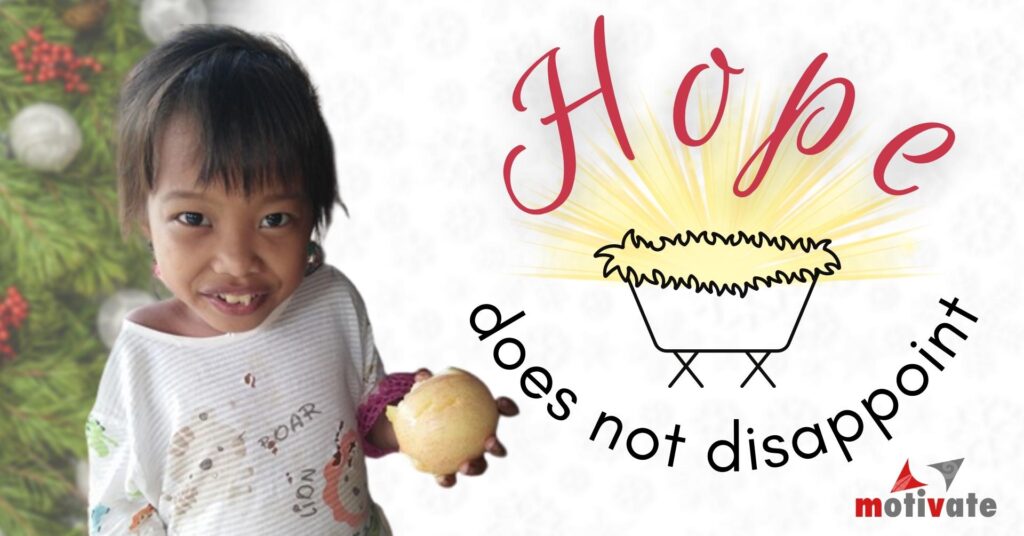 HOPE Does Not Disappoint!
During the pre-dawn hours of that first Christmas day, people found HOPE again. The heralding angel announced, "I bring you good tidings of great joy which will be to all people. For there is born to you this day in the city of David a Saviour, who is Christ the Lord." (Luke 2:10-11)
Paul the Apostle later wrote that we can experience peace, joy and hope through Jesus, even through the hardest times, "… knowing that tribulation produces perseverance; and perseverance, character; and character, hope. Now hope does not disappoint, because the love of God has been poured out in our hearts by the Holy Spirit who was given to us." (Romans 5:4-5)
Hope in Jesus Christ is the timeless message we carry to the world every day – a message that never disappoints!
Most – if not all – of the communities we serve across the Asia-Pacific region and beyond have again experienced major challenges and disasters as well as the Covid 19 pandemic over the past year.
However, our National Leaders and ministry partners have persevered to coordinate local response and serve them with the joy, strength, and hope that only Jesus can give – by the Holy Spirit.
Right now, they are making final preparations to provide food parcels and share the good news of Jesus among their communities across the Philippines and in Myanmar over the Christmas period.
We are seeking to raise at least a further $6,000 for these outreaches and also for the Mangyan clean water project.
Would you prayerfully consider supporting these major outreaches with a gift, of whatever you can afford?
The world needs hope, and we stand ready to proclaim that hope, just as the angel did. The hope that does not disappoint!
When you support our 'Core Mission', you enable us to directly support our National Leaders and provide funds for them to support and reach out to their communities – expanding the gospel impact for generations to come.