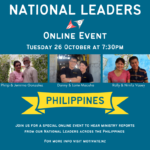 We work in close, highly relational,  partnership with key national leaders around the world. They know the people and the culture of the communities they live in – and are best placed to serve them.
The videos on this page were recorded specifically for our online meetup on 26 Oct 2021, and give a brief introduction to the ministries.
To view the full online meetup, please contact us to request the link.
Bishop Philip & Jemima Gonzalez
Agape Ministries
MINISTRIES
Church Planting

Christian Training Centre

Elementary school

Orphanage



OPPORTUNITIES FOR SERVICE
Teach leaders at Christian

Training Centre

Help run children and youth camps

Evangelism and Community outreach
Bishop Philip and Jemima  oversee Agape Ministries and are passionate about seeing the communities they minister to transformed through the Word of God.
They train pastors from various regions and run a bible school focused on equipping young people for ministry with various denominations. They also run an elementary school and an orphanage – emphasising the word of God within their curriculum.
Philip and Jemima are also heavily involved in local government, demonstrating Christian character in all areas of society.
Pastor Danny and Lorie Macuha
Baptist Tribal Mission
MINISTRIES
Baptist Tribal Mission (Mangyan)


Church Planting

Bible School

Feeding Programmes

Community Development

Education Programmes
OPPORTUNITIES FOR SERVICE
Equip pastors and leaders

Help run children and youth camps

Evangelism and Community outreach
Pastor Danny was formerly the senior pastor of a large church in Batangas, but stepped down in order to establish the Baptist Tribal Mission, and to focus on his passion on reaching the Mangyan tribal people of Mindoro island.
Danny and Lorie are responsible for church planting, community development projects and train key community members for the ministry.
Their programmes include: an education program, feeding programs for malnourished children, hygiene programs, church planting, and community development programs to help the Mangyan tribal people improve their quality of life and come together in community.
Pastor Rolly & Nimfa Vasey
Touching People Cebu
MINISTRIES
Community Pastor

Children's Ministry & Feeding Program

Youth Ministry

Government 'Moral Recovery Program':

Men in Uniform
Barangay Chairmen & Workers
OPPORTUNITIES FOR SERVICE
Help run children and youth camp

Evangelism and Community outreach

Connecting Pastors Fellowship
Community Development
Previously a businessman, Rolly committed his life to the Lord in 1999 and became a pastor in 2004. His wife, Nimfa, is also his partner in ministry, and a graduate of Biblical school.
Today, he pastors an independent Church (Touching People Christian Community Church) at Mactan, Lapu-Lapu City in metro Cebu.
The Vaseys partner with a variety of ministries within a local squatters community. They connect local pastors in unity, feed over 200 children, train church workers, and run a preschool to help prepare children in the community for grade school.
Rolly and Nimfa are passionate about connecting pastors from different denominations in the 80 barangays (subdivisions) across metro Cebu.
They do this by hosting monthly gatherings where the community comes together to intercede for one another, pray and encourage their peers and pray specifically for their government.

Christian Leader
(Monthly Support)
Provide monthly support for a National Leader.

Christian Leader
(One-off Support)
Provide one-off support for a National Leader.
Stories from the Philippines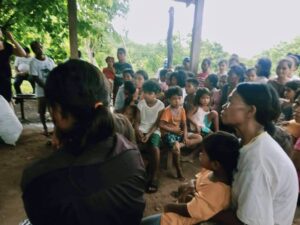 Clean Water
As tropical storms continue to affect the Mindoro province, the need for clean drinking water calls for immediate action.
The tremendous flooding brought about by the storms ravaging the country during the rainy season has caused flash floods, therefore contaminating water used for drinking, cooking and cleaning.
Recently, there has been an outbreak of cholera and other water-borne illnesses due to unsanitary water.
Read More »