"It doesn't get much worse than this … " according to Weather Watch'.
Thankfully many of the Pacific Islands, including Vanuatu and Tonga, remain free of Covid19 – but ín the past few days Cyclone Harold has already caused multiple fatalities in the Solomon Islands and much devasation across the northern islands of Vanuatu and parts of Fiji.
Although the cyclone lost some energy while passing over Fiji, it re-intensified to Category 5 while heading towards Tonga – yet it passed over the Kingdom causing relatively minor damage.
We were able to contact our co-workers in Vanuatu as the cyclone made landfall. Ps Zebedee in the capital, Port Vila says "thanks … for your continuous prayers." Ps Silas & Lois Fatu in Luganville, Espiritu Santo replied to say "yes, Harold is hitting us hard now, we pray it will go away soon. Thank you for your concern & continue to pray. Our love, Lois & Silas."
Communication with much of Espiritu Santo has since been lost, with power lines and phone towers damaged, but initial reports suggest that up to 70% of buildings were damaged, with thousands sheltering in evacuation centres, caves and wherever they could hide from the fierce storm.
Please pray with us for the thousands of Ni-Vanuatu people who have lost their homes, livelihoods and crops.
Pray also for Ps Silas and Lois, their family, Luganville Assembly, schools and other churches that we have partnered with for several years.
While we still haven't heard directly from Vanautu, our contacts Tueni & Nanjoo Wan – who direct the Santo Bush Mission and farm – are still in New Zealand as they have been unable to return with Covid-19 lockdown in force. Their co-workers reported that
the Municipal Building and Police Station in Luganville – along with other buildings – are already badly damaged.
Report from Tueni and Nanjoo (Santo Bush Mission):
"This is the good Friday morning in New Zealand. This is the fourth day after Cyclone Harold damage to Santo. Until right now, I have not heard any news from the mission workers from the bush. I think that there would be big landslides, and a lot of trees fall on the road, or heavy flash flood.It means that people cannot go up there too.
I think that would be a great shortage of food, water, or safe shelters to stay. Also the water has swelled up so much that the water has covered the bridges, preventing traveling. I have no information till now about the safety of the people, or any casualties, fatalities, or any property damages of the villages.
There are about 30 mission workers in the bush now there are also more than 100 custom villages that we do not have any reports about so far. The only news I have received from Luganville or nearby villages. Yesterday, Thursday afternoon, some people from Taulua (about 20 km to South) came to town and send messages. They waited about three days until the roads were clear due to the falling off trees. I think that all the other places would be worse than the south Santo.
I have asked friends in Santo to send messages to all Mission workers to come down with short reports and pictures, but there is no network to reach them since many telecommunication towers have been damaged. It is heartbreaking moment for all of us.
I only pray that the love of Christ, who died on the cross, will give them peace and comfort. Let's continue to pray."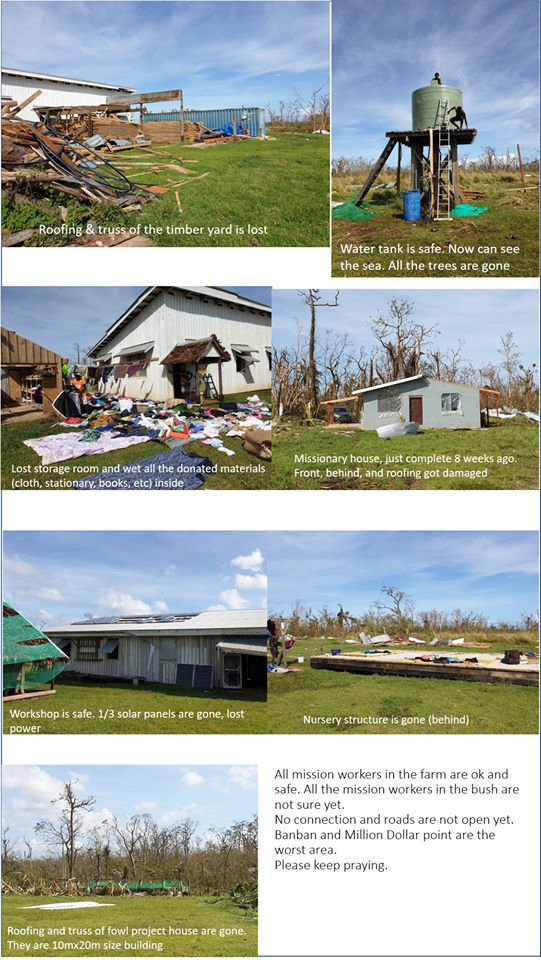 Report from Willy Florian (Station Manager, Tonga Christian Radio FM)
With Cyclone Harold heading towards Tonga as a Category 5 storm, Willy and the radio hosts at TCRFM were already on day 19 of 40 days Prayer and Fasting for the Kingdom, and for nations affected by Covid-19. We praise God that while the storm blew over the islands, causing some flooding, there was relatively little damage. Willy reported:
"Thank you for the prayers … few damage at the Station but not very bad … Moses my young brother was there the whole night … the storm has pass … but we can still feel some strong winds … the tarp was half damage … I'm just waiting for the rain to stop and the wind to grow weaker … all power is out … the radio is off air now … [the generator] was working but ran out of petrol … all petrol station is off …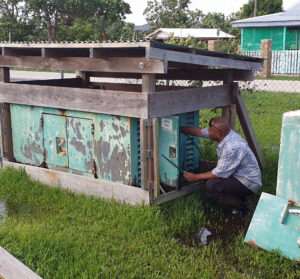 The large, heavy-duty tarp was spread over the roof after Cyclone Gita to add protection, and thankfully there is a spare tarp to replace it.
The radio station is now back on air under generator power, since the petrol station has re-opened, but power is still out across much of Tongatapu.
For more info about TCRFM visit:
www.tcrfm.org | Facebook: Tonga Christian Radio 93.1FM
or click below to donate