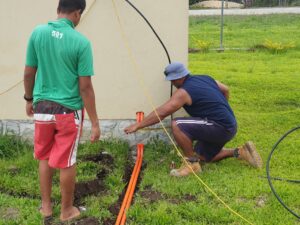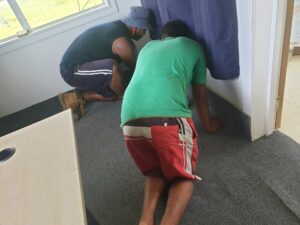 From Willy Florian – Station Manager
First of all I would like to thank God for His love and what He's doing for the ministry.
We'd like to thank our supporters, and those who have been praying and giving, for believing in what we're doing.
An update of what is going on here …
The building is at the stage of being almost complete and so far there are just a few things that to be finished.
We were supposed to move over two months ago but we were delayed due to the shortage of some materials, including cement and bricks.
Now, we are praying that the Lord will provide so that we can pay for the builders to complete the work, including the bathroom and the septic tank.
So that's our prayer, and we are hoping that we can complete the work before the cyclone season begins.
Malo 'aupito!
The interior of our new station building is complete, ready to move in before the end of September.
We're now working to finish the new toilet block, exterior finishing, decking construction and the new, taller transmission tower that has been donated to us!
Can you help provide the funds to complete the work this month? (TOP25,000 / NZ$16,700 / US$11,600)
Here's an exciting report from Willy Florian (Station Manager) …
Greetings from the Kingdom of Tonga! On behalf of the Tonga Christian Radio we would like to thank everyone who has been supporting and praying for the ministry, and especially for all the donations that have come in from around the world following our recent 'Sowing the Seed' campaign.
We are so excited for our new building and we can't wait to start using it on the last week of this month!
This is just the beginning! I believe that as we move to the new station, more programs will be held in the new station and it will be a centre where people will be encouraged and challenged.
Together we are building the Kingdom of God in the lives of men, women and children a across the Kingdom of Tonga!
Malo 'aupito, Willy Florian (Station Manager)