Death is defeated - The King is Alive!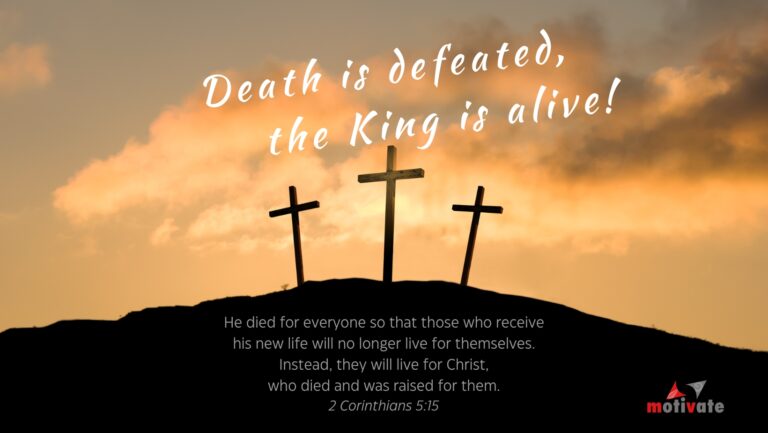 Ask many un-churched people today what they know of the Easter story and they will probably answer either that they don't know what the story is about, or that they don't believe it's true.
Yet, as believers and followers of Jesus Christ we know that the biblical accounts of Jesus' death and resurrection are 100% true.
Although the prophet Isaiah lived 700 years before Jesus' birth, he foretold in amazing detail who the Messiah would be and what He would go through for future generations, including us today. 
In Isaiah chapter 53 we read that Jesus …
   … grew up in the LORD's presence
   … was despised and rejected – a man of sorrows, acquainted with deepest grief
   … was despised, and we did not care
   … was pierced for our rebellion, crushed for our sins
   … was beaten so we could be whole
   … was whipped so we could be healed
   … was oppressed and treated harshly, yet he never said a word
   … was led like a lamb to the slaughter, [yet] did not open his mouth
   … was struck down for the rebellion of my people
   … was buried like a criminal
   … was put in a rich man's grave
   … will have many descendants
   … will make it possible for many to be counted righteous, for he will bear all their sins.
   … exposed himself to death
Through all of His life and suffering, Jesus identified fully with our humanity and yet – as we know – the story doesn't end there!
As Paul wrote to the Corinthians (2 Cor 5:15)
"He died for everyone so that those who receive his new life will no longer live for themselves. Instead, they will live for Christ, who died and was raised for them."
HALLELUJAH! WHAT A SAVIOUR!
We trust you, and your families, have a blessed Easter-time – as you reflect on the death and glorious resurrection of our Lord and Saviour Jesus Christ.
Would you also take a moment over this special weekend to pray for our National Leaders and ministry partners across the Asia-Pacific region, and beyond – as they reach out to their communities with the gospel and love of Jesus Christ?